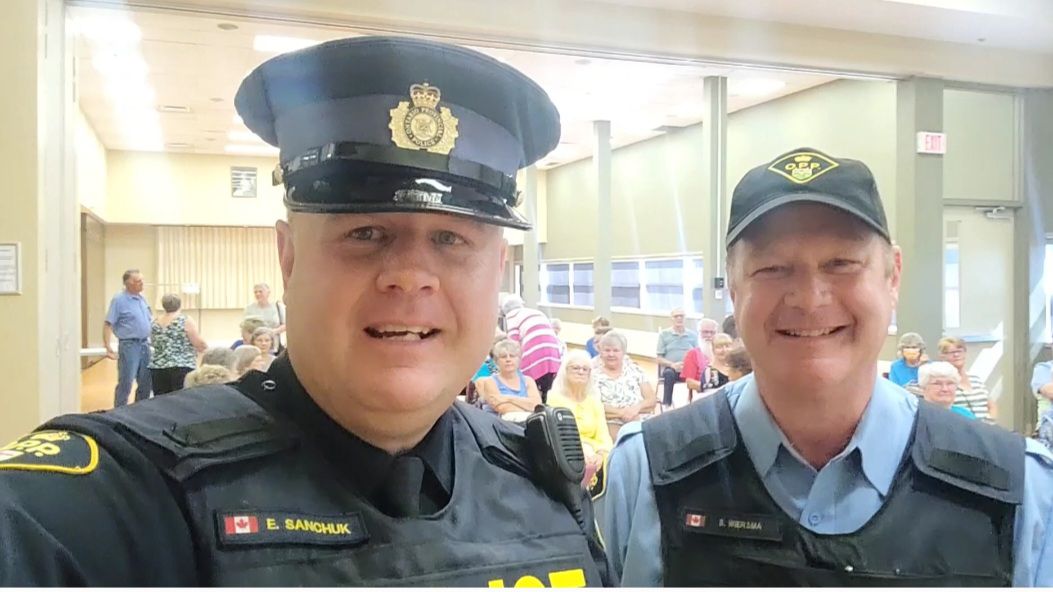 Fraud 'can happen to anyone'
Content of the article
Many people dream of owning a boat. For some, it's a canoe. For others, it may be a yacht. For many, it's something in between.
Content of the article
Earlier this summer, a Norfolk resident tried to buy a boat that was listed for sale online.
In the end, the person was short $500, did not receive the boat, and contacted Norfolk OPP to report the alleged fraud.
The incident prompted Norfolk OPP Const. Ed Sanchuk to send a reminder on how to protect yourself against fraud.
To help educate the public about fraud prevention, the OPP's Fraud Unit and Community Safety Services have gone a step further by creating an in-person anti-fraud program.
"This is just a great opportunity to educate the community and prevent fraud victims from happening across the province," Sanchuk said.
Under this program, an OPP officer teams up with an auxiliary officer to deliver the "fraud prevention" program. To date, 70 OPP Auxiliary Officers have been trained to deliver the sessions across the province.
Content of the article
Sanchuk and Norfolk OPP Auxiliary Sgt. Brad Wiersma teamed up for a recent presentation at the Simcoe Seniors Centre.
"People are tired of receiving scam phone calls and being scammed by scammers," Sanchuk said.
There has been an increase in fraud across the county, with some people not reporting the incidents due to feelings of embarrassment, he said.
"We want to make sure people understand that if they've been the victim of fraud or attempted fraud, they can contact their local law enforcement authority as well as the Canadian Anti-Fraud Center," Sanchuk said.
This is a message taken up by Wiersma.
"There's not a single person in any of these presentations that we've done that hasn't had personal experience with some sort of scam or phone call," he said in a video. line.
Content of the article
"What we're trying to do is build a conversation and let people know, first of all, that if you've been a victim, to try to remove the stigma, it can happen to anyone. ."
Wiersma said another goal of the program is to give people the basics to identify red flags of a possible scam.
Presentations cover a variety of topics, such as types of fraud, theft, securing vehicles to prevent break-ins, and other security and protection issues.
Sanchuk said some of the most common cases of fraud in the county are romance scams where a victim can be contacted by a stranger on social media who will favor their love over time and eventually ask for more money as they win. the victim's trust.
Wiersma said the presentations were well received.
Content of the article
"Several people were asking how to get another program and how to get their family or friends to listen to the exact same content," he said.
To book a large group presentation in Norfolk, call the OPP Detachment at 519-426-3434 or 1-888-310-1122.
More information on fraud prevention is available at Canadian Anti-Fraud Center at 1-888-495-8501 or http://www.antifraudcentre.ca.
Tips to avoid falling victim to a romance/dating scam
Check website addresses carefully. Scammers often create fake websites with addresses very similar to legitimate dating websites. Be sure to only use legitimate and reputable dating sites.
Never send money or give your credit card or online account details to anyone you don't know or trust. A request to send money to a foreign country using wire transfers or a money transfer service to someone you have never met personally should be a red flag.
Do not give out any personal information in an email or when chatting online. Like any scam, use your computer to your advantage. Find out. Check the person's name, company name, addresses used and ask yourself: "Would it be normal?"
Ask yourself: "Would someone I've never met truly declare their love for me after just a few letters, emails, or phone calls?"
Content of the article
SOURCE: Norfolk Ontario Provincial Police
BUYER ATTENTION
Know who you're dealing with – independently confirm your seller's name, street, address and phone number.
Resist the pressure to "act now". If an offer sounds too good to be true, it usually is.
If the buyer wants to use a service you haven't heard of, be sure to check it out to make sure it's reliable – check their website, call their customer service, and read their terms of service and policy. privacy policy. If you don't feel comfortable using the service, don't use it.
Never transfer money or use a bank-to-bank transfer in a transaction.
Always try to deal locally when buying or selling anything.
Do not sell or buy any items from anyone who cannot or does not want to meet you face to face in a public place.
Never buy anything you haven't seen in person and have not had it inspected by a professional.
SOURCE: NORFOLK OPP