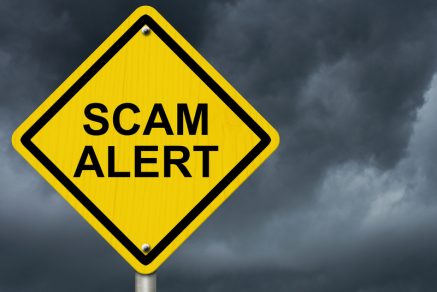 BBB warns against continuing 'government imposter' scams
The COVID-19 pandemic has seen an increase in reports of scammers claiming to be from government agencies. As reports have slowed since their peak in early 2021, victims have lost more than twice as much money, according to new research from the Better Business Bureau® (BBB®). BBB warns people to exercise caution if contacted by any government agency demanding money or offering a government grant for a fee.
After BBB released an in-depth study in 2020 to educate the public on how to spot scams by government imposters, reports to the Federal Trade Commission (FTC) skyrocketed. In 2021, consumers reported over $445 million in losses from government impostor and government grant scams, up from $175.4 million reported in 2020. This type of scam is one of 10 scams most risky scams reported to Scam Tracker, according to the BBB Scam Tracker 2021 Risk Report. Scam Tracker reports also showed that scams by government imposters were the second most reported scams by businesses in 2021.
A Grand Rapids woman said she received a Facebook message from a friend about a government grant. The fake agent made him share personal information over the phone to "prove his identity". After learning she was qualified, she was told she had to pay $800 to receive a $50,000 grant. The scammer told her she could pay with gift cards, bitcoins or CashApp. She asked the scammer to remove her number from his list but he refused.
"Scam artists seek to take advantage of people who find themselves vulnerable as a result of the pandemic," says Lisa Frohnapfel, president and CEO of the Better Business Bureau Serving Western Michigan. "Beware of unsolicited calls, texts, emails or letters and investigate the legitimacy of an offer with a reputable source like the BBB before taking action."
A Lansing-area woman received a phone call claiming there was fraudulent activity related to her social security number and had to give her date of birth and social security number to verify her identity. The scammer told her that if she obeyed, they would read the charges against her. She told the scammer that she didn't feel comfortable giving out her personal information over the phone, and the scammer hung up on her. That's when she knew it was a scam. The woman says she still receives the same phone call a year later.
The biggest hurdle for those trying to prosecute these scammers is that most of the scammers are overseas. BBB's initial study on this topic showed that many of these government-related scams originated in India.
Types of government imposter scams
Social Security Administration: This is the most impersonated government entity. Scammers warn victims that their identity has been stolen, then ask them to verify their social security number and other personal information over the phone.
Law enforcement or federal agent: Some scammers pose as law enforcement and threaten immediate arrest if demands are not met. They may even request payment in gift cards to "fix" the problem.
IRS: Imposters call and threaten arrest unless back taxes are paid. Most reports to BBB Scam Tracker come from people who lost money by requesting an employee identification number from websites that appeared to be official.
Government grants: Scammers use hacked social media accounts to tell victims that they are eligible for a free grant that only costs a small fee to receive. After the first payment is sent, the scammer keeps adding various fees. The consumer never receives the subsidy and loses the money and personal information they sent to the scammers.
Means of payment
While gift cards are still the payment method of choice for scammers, others are starting to turn to cryptocurrency. The FTC reported more than $22 million in losses due to victims of scams by government imposters using cryptocurrency as payment in 2021. To learn more about cryptocurrency scams, read the BBB study on the subject.
Tips to Avoid Government Imposters or Government Grant Scams
A government agency won't call you – Government agencies such as the Social Security Administration, IRS, or FBI do not call people with threats or promises of money. The SSA will never threaten you with an identity theft issue and Social Security numbers are never "suspended".
Don't always trust your caller ID – Scammers can spoof numbers, making it look like they're calling from a government agency. Check with the actual agency by going directly to the agency's site, then click contact us to find out how to connect. Do not trust numbers that may be included in emails, text messages or internet searches.
Do not click on links inside a text message or email claiming to be from a government agency. Scammers can lead you to fake sites that look legitimate.
Never give out your bank account or other personal information to anyone who calls you – The IRS usually makes its first contact with people through regular mail – not over the phone – about taxes.
Never pay with a gift card, bank transfer or cryptocurrency – No government agency will accept these payment methods.
Don't pay for a "free" government grant. If you have to pay money to get a "free" grant, it's not free. Go to Grants.gov for official grant listings.
Report potential scams
Better Business Bureau – File a report with BBB Scam Tracker.
Social Security Administration – Submit a report through the Inspector General's online form.
IRS – Complete the IRS Impersonation Scam Form at tigta.gov or call TIGTA at 1-800-366-4484.
Federal Trade Commission – 877-FTC-HELP or www.ftc.gov.