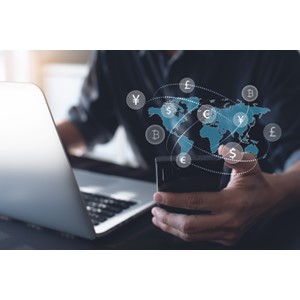 4 FinTech money transfer companies in the United States
By Edlyn Cardoza
September 05, 2022
APIs
B2B
Cross-border payments
Cross-border payments have become an essential aspect of payments. Over time, payments have digitally transformed to facilitate cross-border payments for customers and B2B businesses.
Around the same time, several first-generation FinTech companies struggled to meet the challenge of moving money conveniently and cost-effectively around the world. Some FinTechs have also turned into B2B companies by partnering with financial institutions to power their money movement.
FinTech money transfer companies are focusing on improving digital navigation to provide a simpler user experience for customers. Using FinTech money transfer companies to send money internationally is usually the most cost effective method. These companies often charge lower transfer fees than banks while maintaining security and reliability.
Below are 4 FinTech money transfer companies in the United States:
MoneyGram is a global leader in cross-border P2P payments and money transfers. Consumers can send money overseas to friends and family, pay bills and more with affordable fees and great exchange rates. Its consumer-centric capabilities allow family and friends to send money quickly and affordably to more than 200 countries and territories, with more than 75 countries now digitally enabled.
MoneyGram is built on its modern, mobile-based, API-based platform and partners with the world's biggest brands to serve millions of people each year through its walk-in and direct-to-consumer digital business. With a strong culture of innovation and a relentless focus on using technology to deliver the best customer experience in the world, MoneyGram is leading the evolution of digital P2P payments.
Payoneer is the go-to global partner for digital commerce everywhere. From borderless payments to unlimited growth, Payoneer promises any business, in any market, the technology, connections and confidence to participate and thrive in the new global economy.
Since 2005, Payoneer has been imagining and designing a truly global ecosystem for the world to realize its potential. Drive growth for customers ranging from aspiring entrepreneurs in emerging markets to the world's biggest digital brands like Airbnb, Amazon, Google, Upwork and Walmart.
In today's borderless digital world, Payoneer enables millions of businesses and professionals from over 200 countries and territories to connect with each other and grow globally through our platform. cross-border payments. With Payoneer's fast, flexible, secure and cost-effective solutions, marketplaces, networks, businesses and professionals around the world can pay and get paid globally, as easily as they do locally.
Ria Money Transfer, a business segment of Euronet Worldwide, Inc., provides innovative financial services including fast, secure and affordable global money transfers to millions of customers, as well as currency exchange, top-up mobile, bill payment and check cashing, providing a trusted omnichannel experience. The company is unwavering in its commitment to serving its customers and the communities in which they live, forging pathways for a better everyday life.
Founded in 1987, the company has grown from a single storefront in New York to one of the largest money transfer companies in the world, with over 490,000 locations and a presence in over 160 countries worldwide .
Xoom, a PayPal service, is a leading digital money transfer provider that lets consumers send money, pay international bills, or top up the phones of family and friends around the world. whole world. They offer a superior way to transfer money securely, quickly and cost effectively.
Their mission is to provide the fastest, most transparent and consumer-friendly digital money services available on our mobile, tablet and desktop platforms. With Xoom, consumers can send money to friends and family in countries across Africa, Asia, Europe, India, Latin America, the Middle East and Australia . Xoom was founded in 2001, went public in February 2013, and on November 12, 2015, was acquired by PayPal Holdings, Inc.
ALSO READ: Global Payments Providers and Landscape Report Q2 2022
Previous post
Lentra Announces Two New Appointments to Its Leadership Team
Read more
next article
Wayflyer secures $253 million in debt financing from Credit Suisse
Read more